Outstanding
T I M E S O F I N D I A
Mesmerising
B O M B A Y T I M E S
Memorable
I N D I A N E X P R E S S
Brilliant
A S I A N A G E
Background of the play
Kuch Bhi Ho Sakta Hai
is known to the world over as an autobiographical play about the life and times of actor Anupam Kher. The show was conceived during a time when the actor was going through the lowest point in his life. Even though the worldview was that he was a happening actor in actuality he was on the verge of bankruptcy. Anupam's accountant informed him that his overarching ambitious plan of wanting to expand his business as a media tycoon was a pipe dream since he had a mere INR 4,000 in his account. He could not borrow anymore funds and as he searched his soul for answers he remembered his father's words that a failure is an event – never a person!
Anupam decided then to enact a play on the failures of his life and use the stage as a platform. The debut show was held on the 8th of August 2005, at the Sophia Auditorium in Mumbai. In a bold move he invited all the people mentioned in the play, from the circle of family, friends and also folks from the film industry who had featured in his life.
It was called
Kuch Bhi Ho Sakta Hai
(Anything is Possible) because it was the phrase that aptly summed up the actor's life. The opening night performance got a never-ending standing ovation. The audiences were not only applauding him as a stage actor but were also celebrating his courage to talk about his failures publicly. The play not only gave him a financial breather, but it also liberated him from the fear of fiasco. This added another significant facet to Anupam's personality that of an international motivational speaker and laid the seeds of his first best-selling book The Best Thing About You Is You.
Today,
Kuch Bhi Ho Sakta Hai
(Anything Is Possible) is not only a play also has attained the status of popular folklore. A possibility the world talks about.
About the play
Kuch Bhi Ho Sakta Hai
celebrates the creative journey of a man who should have been a failure; but instead someone manipulated his destiny and mandated it to become a success. Never before, in the history of theatre, has the autobiography of an actor been dramatized on stage, especially while still practicing his craft.
Anupam Kher, with over 500 feature films to his credit is perhaps the most versatile prolific actor the Indian Cinema has ever seen. In recent times all the biggest blockbusters bear his name in the credits.
e.g. Hum Aapke Hai Kaun, DilwaleDulhania Le Jayenge, Kuch Kuch Hota Hai, Kaho Na Pyaar Hai, Kya Kehna, Bend It Like Beckham, Silver Linings Playbook and The Big Sick.
Some dub him a lucky charm. At the zenith of his career and crossroads of his life, he paused to reflect and share his pain, joy, tears, and laughter. The play celebrated Anupam's struggle and spotlighted the sheer determination of the protagonist as well as the interesting twists and turns provided by his life. The play is staged as a full production with Anupam narrating and dramatizing the important events in his life – his first romantic encounter, failure at Gandhi audition, casting in Saaraansh, awards, personal relationships and bonds – all of which make for a fascination show that keep the audiences spellbound.
Although this one-man enactment tells the story of a small-town youth making it big in the Hindi Film Industry – at every stage the audience identify with Anupam Kher and find glimpses of own lives. Like the Actor the play – celebrates life, faces failure, soothes every scar with humor and reaches out to all with honesty and rare candour.
Trailer of the play
Testimonial

Very efficient and also very moving.
Dilip Kumar

This is a wonderful play.
Yash Chopra

This play has the power to inspire, uplift and heal. A must watch!
Satish Kaushik

Anupam Kher is absolutely amazing .
Kirron Kher

One of the finest pieces of theatre I've seen in a long time.
Pritish Nandy

I Love Anupam kher and so I love everything that he does.
Mahesh Bhatt

Bravest pieces of theatre I've ever seen
Boman Irani
Review
Cast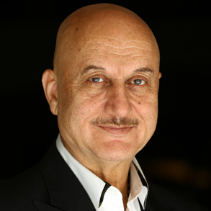 Anupam Kher is an international actor having featured in over 500 feature films worldwide. This BAFTA nominated actor is based in New York and currently stars in NBC's hit television show New Amsterdam.
Crew
SANDEEP POTDAR
Audio Visual
Digital Team
KAMAL RAJPUT
Vision Mixer
HERMAN DSOUZA
Executive Producer
UPCOMING SHOWS OF
KUCH BHI HO
SAKTA HAI
Gallery